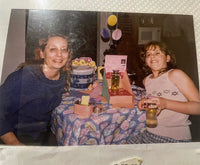 The Rolling Bell's version of '90's Era
1999.

Gram Bell + me with our "Mother Nature Sents" homemade perfumes.

Zoom in on the 'display' box to faintly see the exact wording (scents is misspelled); and you can see the flowers in the bottles.

Memories.
Full circle.
Posterity.
My Fragrance Collection
Our Body is Important, too!
Jewelry | Hair | Pet + More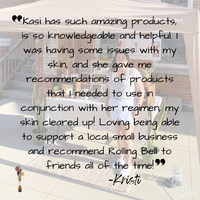 Grateful for every review
I pieced together every inch of The Rolling Bell from my heart, a vision; every formula you find on my website is a formula I created from scratch from the knowledge I earned from a formulating program, my career and my focus on clean ingredients since I was young.

When our conversations and my products impact your relationship with your skin - then you take a moment to share that experience with others, which in turn helps build my business' rapport - there's no way to show the gratitude that I feel completely..
This business is a piece of who I am as a person and I will forever be grateful to those who help give it purpose.
Best Sellers
Client Testimonials
The best! I am completely obsessed with this face serum (also the enliven eye serum and the facial butter). I've used A LOT of skincare products and after recently discovering The Rolling Bell, I'm overhauling my skincare routine. LOVE LOVE LOVE my skin. It's softer and smoother than it's ever been. Especially around my jaw line - I've had annoying little bumps there that weren't pimples. After a few weeks of using the serum and butter day and night, not a single bump remains. I am in awe of these products. Can't wait to try more!

Tiffany (Florida)
I am honestly in love with your products. Never seen such quality and such pure ingredients.

MY SKIN FEELS SO SOFT Just after 1 apply! 

You blew my mind.
You're my go to for the rest of my life :)
Thank you for this!

Andrea (California)
I was recently diagnosed with an autoimmune disease so I am trying to be more aware of what I put on and in my body. When I heard about The Rolling Bell, I had to try it. I was looking for some new products for my skin that were natural and effective and I was not disappointed. I love the Enliven Eye Serum and the Bell Face Butter! My skin is so smooth and soft. I also ordered a body butter I will be using soon on my pregnant belly. Kasi was so kind and sent a note with my order along with extra samples. I am excited to try more of her product and grateful to have found a good company to support with quality products using ingredients I can pronounce the name of and recognize.

Amanda (Texas)
I started using The Rolling Bell start up bundle over a month ago and it's so amazing for my face! The best unexpected surprise that it's aslo helped keep my hormonal acne away completely!!! I highly recommend you check this line and everything else out from Kasi, I've grown my collection of skincare from soley her offerings now. I love her Under Eye Brighter to further help reduce the dark circles under my tired mom eyes 😂 and her lip balm! Omg! My entire life, the only thing I can wear on my lips is Vaseline if I don't use it or tried anything else, my lips just fall off, but this lip balm working amazingly for me 💋😍😍😍 never peeling anymore.

My skin is healthier which makes me happier and keeps me from "looking my age." I look 25 right? ☺ ☺ ☺

Angela (Indiana)
I was introduced to the sunshine in a jar initially over the holidays from my neighbor who received it as gift - she doesn't do scents well so that's how I ended up with it. It was a sign - I am so happy she decided to pass it to me because I have used it religiously and LOVE it so much! Additionally, I decided to make my own first purchase a few weeks ago and ended up selecting the start me up bundle, entirety butter and milk bath. I have started using the start me up bundle morning and night and have noticed my skin is so soft! The entirety butter I just want to eat - it smells sooo good! I purchased that for my son who is a year and to use on his skin after bath time. I have not used the milk bath yet but I am sure it will be heavenly. I already can't wait to place another order. These products are fantastic and the best part is I am helping to support a small business. I am a wife of a small business owner & there's something special about supporting other small businesses that I hold close to my heart. Thanks Kasi for your wonderful products! You have done an amazing job

Alyson (Virginia)
Client Testimonials
Kasi has been amazing at answering all my questions with honesty and truly wanting to suggest the most appropriate skin care products for me. She doesn't just try to sell, but actually answers questions with what she knows and feels is best. It is hard to find that these days!

I have been using her samples for the enliven eye serum and bell face serum and my complexion and skin have never been brighter, more balanced and smooth! Love love love the products so far!

Janie
I just love the Pumpkin Spice Latte body butter! The smell was even more amazing then i expected and the consistency of the product is my new favorite for lotions. I can't wait to try more products!

Kelly
I purchased Tough Workout Body Balm with magnesium oil and love it! The balm also is thick and cream and helps my skin feel smooth! Thank you!!

Jessica
Love the Gardener's Salve! Started using it a little over a month ago. I have had problems with the ends of my fingers cracking since I started working as an STNA over 37 years ago. I have tried every lotion/cream I could find but nothing ever seemed to help. Kasi's formula seems to be what I have needed. I have already used the first tin and no cracks. The Salve is a bit gritty and oily when you first apply but it soaks in quickly and best of all it smells like chocolate to me!! Love this stuff and would highly recommend it to anyone! Thanks Kasi!!!

Cindy
therollingbell has AMAZING, handcrafted & ALL natural products to choose from. Packaging is adorable, too.
These are perfect stocking stuffers!
Check out all her products!!
She has products stocked at Cosi Bella Boutique, too!!
Do yourself a favor, try the hair mask and grab something for your hubby too!!

Shelby
I've used the lip balm, my lips were very dry, and cracked, the national brands were not doing what I needed, I tried The Rolling Bell product, and what a relief! first time I used it, was an instant relief! ,within about 3 or 4 days of normal use, my lips were back to normal and feel great!!! I keep using it to keep from having the pain that comes with chapped lips. I honestly cant say enough great things about this product!! Kasi does a great job making it with all natural products! Thank you Kasi for making a great lip balm that works!!

Kris
All of the products here are great, from human to dog, I wouldn't trust anyone else to make products for both myself and my 4 legged child. The Rolling Bell takes pride in all of their products and it shows. The label for the dog shampoo bar can be planted to grow wild flowers, how cool is that!?!

Nicole
I love these products! So far I have used the body scrub, bath salt, lip balm and a few of the lotions. I bought a few products for stocking stuffers this year as well. Such a variety of local product with alot of thought and care put into each item. I enjoy knowing each ingredient I am putting on my body and why is was created safely this way. The Rolling Bell exceeds expectations this way. Will be ordering again!

Casey
I just received my first bottle of beard oil. Smells and feels terrific and natural. A definite success. Great job Kasi!

David
Thank you to all visiting,

the impact you make on a small business with every, "Like", Share and Kind Word is invaluable and appreciated!
Leaping Bunny Certified Business

International Gold Standard Cruelty-Free Certification, from where I source my ingredients all the way down to my final product.
Thank you to all visiting,
the impact you make on a small business with every, "Like", Share and Kind Word is invaluable and appreciated!
Leaping Bunny Certified Business
International Gold Standard Cruelty-Free Certification, from where I source my ingredients all the way down to my final product.
Certification Blog
Client Testimonials
These products are amazing! I have sensitive skin and these products are perfect for it! Since working in the hospital my face has become dry and flakey, now it's not a problem at all with therollingbell! The face/body scrubs are so effective, and don't get me started on the body/face butters😍. Please do yourself a favor and treat yourself with these products. I also live out of state and my products were delivered very quickly as well.

Ashton
I have been using the Bell Face Butter for the past 10 nights and oh my... amazing! I have struggled with terrible skin for the past 18 months and now my face feels great.

Vicki
I wanted to wait a whole week before doing a review but I can't lol..... I love my products! I used the bell face serum with palmarosa and bell face butter just at night from Friday and over the weekend, starting Monday I replaced the my normal face moisturizer with the bell face butter.....yesterday I used both the bell face serum with palmarosa and bell face butter day and night. I love both products at night for sure my face feels smooth and soft in the morning.....I love using the bell face butter as my daily moisturizer and I will from now on...my face feels soft all day and I dont think it gets as oily....now for me i will only use the bell face serum with palmarosa at night I felt it made my face oily more yesterday using it during the day too as opposed to just using it at night. Anyways I will be getting more products for I loved these!! I love that they are all natural I hate paying high $ for products I cant even pronounce the ingredients and not knowing what they are or where they are from.

Natasha
Ahh, where to start. I have been using the Serum daily for less than a week and my skin is so much healthier looking! Also helps with irritation I get from wearing the mask all day. Love it!

Misti
Extremely happy with these products! I'm a makeup and skincare junky and I've fallen in love with The Rolling Bell. First and foremost, shipping was extremely quick- even 400+ miles away. The labels were nicely written and designed. The formula itself is gentle on my acne prone skin but enough to help with dry patches. Pleasant smell and texture. I would highly recommend to someone interested in natural products.

Krista
I highly recommend these products. I have been using the face and lip scrub and it smells amazing. My skin feels so smooth and soft. It feels great to be able to use all natural products on my skin. Thanks Kasi!! It is a pleasure to do business with you.

Angie
I love these products! I just got them a few hours ago but have already tried every single thing and I am in love! I bought the 'Start Me Up' Bundle and some of the Body Butter. I am so impressed and can't wait to try some more things!!

Mary Jane
I have always been very weary of trying anything new on my face.. I've had the same facial routine for like.. almost 20 years! But oh my, your face serum is out of this world. I've used it since Saturday and my skin is so soft, so smooth and just glowing! AND, it smells AMAZING. You are awesome at what you're doing, Kasi.

Tierney
I won the 'Start Me Up' Bundle and it is absolutely amazing. My skin is so soft and the eye serum is amazing!! The lip balm is so smooth and lasts on your lips and makes them feel great.

Ashley
Client Testimonials
I highly recommend her Enliven and Optimum Face Cream! I'm 30 year old mom and starting to have signs of aging. I have very sensitive skin and these two products have been a total game changer! Little goes a long way! I also want to give her 5 star rating for customer service! She was very quick to answer all my questions and was very informative and professional. You can tell she puts her heart and soul into what she does! I'm looking forward to try more products in the future!

Kayla
My husband is a man that loves trying new things especially when it comes to beard grooming products. Fragrance and how the beard absorbs the oil are the two things he looks for. He enjoys the natural, earthy smell of this oil as do I. You know the smell of a lumberjack 🤣. Some essential oils can be over powering. The Rolling Bell has created a product that has a well balance of fragrance as well as wear. As the spouse, I appreciate beard oils that absorb rather than sit on the beard and then end up on my face or hair. Eww. This ABSORBS into the beard. Remember a little goes a a long way. After a few days I noticed how SOFT his beard was to the touch. He washes his beard daily and brushes it with beard brush. He then uses an electric beard straightening brush and he is convinced "The Rolliing Bell " beard oil was just what he needed to finish off his routine. Thanks again!

Kay
Love love love every product I use! The hair mask has completely saved my hair! The body butter has been a life saver this winter my skin feels amazing! My husband uses the beard oil and loves it!! 5/5 recommend! I'll never use other products again!

Ashley
I have been growing beards for the winter for YEARS! However, the last 3 years I decided to just keep it. So, until then I never really had the need for beard oil. Honestly, I always thought it was a bit "girly." But, the longer I kept the beard, the more I realized you couldn't just wash it and be done. Shampoo and conditioner are fine, but it doesn't last. I have been struggling to find something I liked. Most beard oils are just that OIL. They are usually too "perfumy" and greasy. The last oil I used smelled wonderful. BUT, hours later if you touched your beard, it would still feel greasy. The oil just seemed to sit on the surface.  
FINALLY, I found The Rolling Bell !
First of all...it smells wonderful! Very manly. Not like perfume, or aftershave. A very woodsy, natural smell. And not too strong. Very subtle. Almost immediately I noticed a difference. The oil actually was absorbed into my beard. I didn't have that oil slick like I did with some other products. The smell lasts for hours, but is never overpowering. Very subtle smell. Within a few days I noticed a marked difference in the texture of my beard. MUCH softer, and more under control.  
You have a customer for LIFE!

Bradley
I couldn't be happier with the products I use. My niece introduced me to therollingbell and I love the Optimum, Bell Face Butter, Toning spritz and eye serum. My face doesn't feel like its dry and cracking anymore, it feel moisturized and smooth plus the red blemishes are gone. love these products!

Shawna
Let me start by saying AMAZING 🙌🏼 I'm always a little skeptical when trying new products because I do have such sensitive skin. I started using the rolling bell a few months back and fell in love with the scrubs. They made my skin feel like it was new and full of life and paired with the body butter!! People defiantly worth it 🥰 I recently tried the optimum face cream and I will never go back my face is so hydrated and I've even noticed some of my blemishes have faded and gone away. I always get excited when she releases new products. Thank you Therollingbell for creating natural healthy skin care ❤️

Jenna
I have been using The Rolling Bell for almost 2 weeks ! These products are amazzzinnggg all natural skincare at an affordable price and makes my skin feel so clean and refreshed. I love the body butter, lip balm, skincare allll of it ! Thank you, Kasi

Cassandra