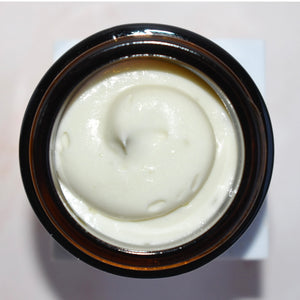 Soil + Sea Magnesium Cream

House made magnesium oil with flakes sourced from the Netherlands, ancient Zechstein seabed; known for the purity of its minerals, swirled into essential oils that are targeted to soothe sore muscles and promote relaxation.

Pairs wonderfully with Align, a sun-charged magnesium oil mist for your body.

Respectful to our skin's microbiome
Non-comedogenic
Magnesium Oil (really water and magnesium flakes but feels like an oil) is important for multiple biological processes within our body and studies have proven its ability to absorb when applied topically. Plants cannot absorb the energy from the sun that's needed for photosynthesis without the appropriate amount of magnesium; let that sink in when understanding how much magnesium does for our own bodies. Regardless of how you supplement magnesium in your life - I challenge you to do your own research and strive to increase magnesium in your day.
I have had my magnesium cream available since 2020 when I started my business, formerly known as 'Tough Workout' and 'Relief Cream'. I have played with the name over the years. I love naming my products, it makes their creation have a closer piece of my heart. They are my babies, and both products go deeper than just "magnesium" with all the other thoughtfully incorporated ingredients.
Canna Blend all targeted to fight inflammation. Research shows CBD has a very strong anti-inflammatory effect in our skin cells, along with antioxidant properties.
Phytocannabinoids (plant) are structurally similar to endocannabinoids (within our bodies) which means that they can mimic the functions and bind to the same cannabinoid receptors in our bodies. This could explain why some people who are using cannabinoid-rich hemp extracts report experiencing beneficial results with managing chronic pain, insomnia, stress etc.
See my Blog Post to read about the roots of this ingredient in my cream.
Directions: Apply liberally to your skin. Avoid freshly shaven skin and avoid face. A tingling sensation is normal.
Ingredients: Aqua, Magnesium Oil, cannabis sativa (Hemp Seed Oil), butyrospermum parkii (Shea Butter*), Cetyl Alcohol, CBD | CBC isolate, Emulfisying Wax, Glycerin, Xantham Gum, Benzyl Alcohol (and) Ethylhexylglycerin, tocopherol (Vitamin E), Essential Oil Blend.
Plant-based | Cruelty-free | Eco-friendly

For External Use Only.
Not intended for Children, or for use during Pregnancy.
Always test a small area before applying widely.
Shelf-life: 6 months
Net Weight: 3.3 oz
Disclaimer: The Rolling Bell, LLC products are not intended to diagnose, treat, cure, or prevent any disease.
Products and shared knowledge by The Rolling Bell, LLC make no claim to cure or prevent any disease or medical problem and is not intended to substitute medical advice.