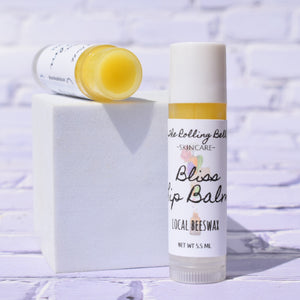 Bliss Lip Balm is made with Zinc Oxide + Calendula infused extra virgin Olive oil, Cocoa butter and local Beeswax; all providing intense nourishment that leaves behind a soft shine.
Cocoa Butter for the vitamins and fatty acids aiding in relief from dry, cracked skin.
Local Beeswax for it's Vitamin A content, to strengthen and regenerate our skin, providing a protective barrier to seal in moisture.
Thank you, Cherry City Honey!
Zinc Oxide + Titanium Dioxide offering our lips some sun protection.
Directions: Apply to your lips as much as your heart desires!
Great to use as a final step in your morning and bedtime skincare routine, providing rich vitamin nourishment to start and end your day.
Ingredients: extra virgin olea europaea (Olive Oil), theobroma cacao (Cocoa Butter), ricinus communis (Castor Oil), Local (cera alba) Beeswax, Zinc Oxide, Titanium Dioxide, Essential Oil blend.

For external use only.
Always test a small area before applying widely.
Shelf-life: 12 months
Net Weight: 0.3 oz