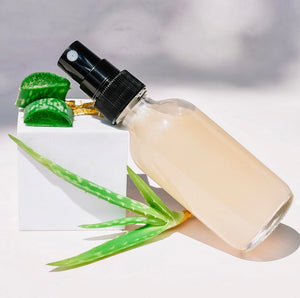 'Aloe' 👋 Sunshine Soothing Essence has been formulated for those days we let UVB (burning rays) get the best of us, as it helps soothe the redness that occurs with sun exposure.

All formulations are respectful to our skin's microbiome with a pH 5 - 5.5.
Non-comedogenic

Aloe Vera has healing properties for damaged, irritated skin from it's vitamins and antioxidant properties.


Bisabolol a potent antioxidant that helps soothe irritated skin.


Calendula Extract a standout herb for skincare, known for it's soothing, anti-inflammatory properties for irritated skin.


Rose | Lavender Hydrosol lavender is a well known herb that is also, highly beneficial in soothing our skin and our minds. 


Chamomile Extract contains an active flavonoid and essential oil compound that heals inflamed and damaged skin.
Each ingredient incorporated into this blend has been specifically chosen for their healing, anti-inflammatory and soothing properties for our skin!
To help avoid needing this Spray, please remember:
30+ SPF Broad-Spectrum Sunscreen.


Reapplication roughly every hour and a half.


Seeking shade between 10 am and 4:30 pm from April through September in our area (Ohio).


Sun hats and cover ups.
Directions: Spritz onto skin where redness has occurred from too much sun exposure. 
Do

not apply to open blisters or open skin

!
Ingredients: Rosa Damscena (Rose) Flower Water, Lavandula angustifolia (Lavender) Flower Water, Hydrosol, matricaria recutita (Chamomile Flower Extract), Calendula Officinalis Extract, Aloe Barbadensis Leaf Juice, Bisabolol Natural, Glycerin, Lactobacillus Ferment.
Ingredients are plant-based, cruelty-free and eco-friendly (including packaging).

For external use only.
Always test a small area before applying widely.
Shelf-life: 6 months.
Net Weight: 2 oz