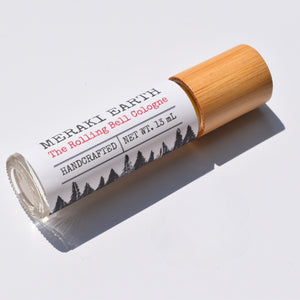 Meraki Earth Cologne drenches your senses with it's rustic woodsy nuances as it contends with a daring herbaceous twist, carried away with sharp, cooling notes.

Curated from a 96% naturally handcrafted blend, deepened with 4% phthalate free fragrance; infused into organic sugar cane alcohol.
Meraki | doing something with your soul, creativity and love, by putting a piece of yourself into your work.
Directions: Apply to pulse points as you wish.
Ingredients: Aqua, The Rolling Bell's Handcrafted Fragrance Blend, Organic Sugar Cane Alcohol.
Plant-based | Cruelty-free | Eco-friendly

For external use only. 
Always test a small area before applying widely.
Shelf-life: 6 months
Net Weight: 10 mL