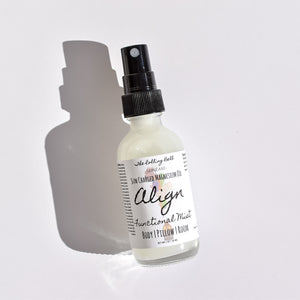 Align Topical Magnesium Oil Mist is handcrafted with a blend of essential oils, sun-charged magnesium oil and lavender hydrosol. 
The refreshing notes of grapefruit, peppermint, rosemary, ginger root, vetiver and chamomile all work together to provide a gentle sense of well being and calming space.

Have you ever seen the sun shining through a window and walked outside just to put your face and body towards it's gleam, soaking up all her mood-lifting, positive energy?
How you feel within those moments is why I choose to sun-charge my magnesium oil.
House made magnesium oil with flakes sourced from the Netherlands, ancient Zechstein seabed; known for the purity of its minerals, swirled into essential oils that are targeted to soothe sore muscles and promote relaxation.

Magnesium Oil (really water and magnesium flakes but feels like an oil) is important for multiple biological processes within our body and studies have proven its ability to absorb when applied topically. Plants cannot absorb the energy from the sun that's needed for photosynthesis without the appropriate amount of magnesium; let that sink in when understanding how much magnesium does for our own bodies. Regardless of how you supplement magnesium in your life - I challenge you to do your own research and strive to increase magnesium in your day.
Juniper calming effects on our nervous tension, can be used to purify our air.

Vetiver helps calm our minds and promotes relaxation and balance.

Chamomile Roman promotes relaxation and a restful night of sleep.

Cardamom helps uplift our mood when facing stress.

Ginger Root warming and soothing.

Peppermint from the leaves of mint, refreshing and soothing.

Lavender helps relieve nervous tension, calming and relaxing.

Directions: Apply liberally and rub into your skin at bedtime. Avoid freshly shaven skin and avoid face. A tingling sensation is normal.

Ingredients: Aqua, lavendula angustifolia (Lavender Flower Water), Handcrafted Magnesium Oil, lavandula angustifolia (Lavender Oil), citrus aurantium bergamia (Bergamot Peel Oil), citrus paradisi (Pink Grapefruit Peel Oil), mentha piperita (Peppermint Oil), rosmarinus officinalis (Rosemary Leaf/Stem Oil), juniperus communis (Juniper Fruit Oil), zingiber officinale (Ginger Root Extract), boswellia carterii (Frankincense Oil), elettaria cardamomum (Cardamom Seed Oil), vetiveria zizanoides (Vetiver Root Oil), anthemis nobilis (Roman Chamomile Flower Oil), Polysorbate 20, Lactobacillus Ferment.
Plant-based | Cruelty-free | Eco-friendly

For external use only.
Shelf-life: 6 months
Net Weight: 2 oz
Disclaimer: The Rolling Bell, LLC products are not intended to diagnose, treat, cure, or prevent any disease.
Products and shared knowledge by The Rolling Bell, LLC make no claim to cure or prevent any disease or medical problem and is not intended to substitute medical advice.