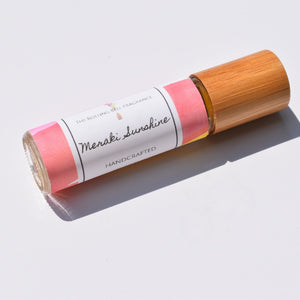 Meraki Sunshine Perfume is a uniquely subtle, yet intoxicating night blooming flower, met with wild roses and hints of citrusy fruits, carried away with faint notes of vanilla.
Uniquely subtle, yet perfectly present!
Each perfume is carefully crafted to evoke a positive, confident and uplifting impact in your day.. and night!
Curated from a 96% naturally handcrafted blend, deepened with 4% phthalate free fragrance; infused into organic sugar cane alcohol.

Meraki | doing something with your soul, creativity and love, by putting a piece of yourself into your work.
Directions: Apply to pulse points as you wish.
Ingredients: Aqua, The Rolling Bell's Handcrafted Fragrance Blend, Organic Sugar Cane Alcohol.
Plant-based | Cruelty-free | Eco-friendly

For external use only. 
Always test a small area before applying widely.
Shelf-life: 6 months
Net Weight: 10 mL