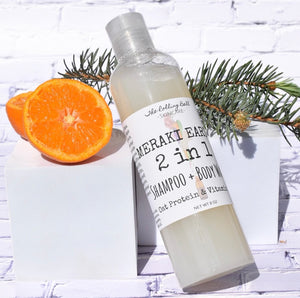 Formulated to be gentle to our hair and skin barrier, yet effective on grime!
Drench your senses with Meraki Earth's rustic woodsy nuances as it contends with a daring herbaceous twist, while cleansing you from head to toe.
As you rinse away the suds your hair and skin are left feeling soft and hydrated with no stripping feel.
Complete your grooming routine with The ex'Beer'ience Face Serum and a spritz of Meraki Earth Cologne.
Pro Vitamin B5 is a natural element of healthy hair and present in all living cells. This ingredient helps promote softness and hydration to our skin and hair. 
Oat Protein is a naturally derived whole protein; providing all over softness and hydration retention.
Directions: Wet hair and body, then wash. Rinse thoroughly. Always apply a moisturizer while skin is still damp to promote a healthy and hydrated skin barrier.
Ingredients: Aqua, Sodium Cocoyl Apple Amino Acids (Foaming Apple), Cocamidopropyl Betaine, Vegetable Glycerin, Cationic Guar, Panthenol (Pro Vitamin B5), Hydrolyzed Oats, Benzyl Alcohol (and) Ethylhexylglycerin, Fragrance | Essential Oil blend.
For external use only.
Always test a small area before applying widely. 
Net weight: 8 oz
Shelf-life: 6 months