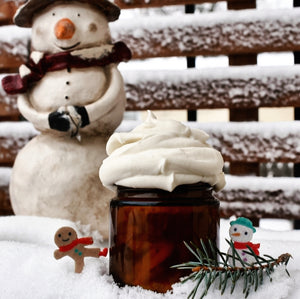 Welcoming December with The Rolling Bell's handcrafted Christmas blend! 

Imagine walking through your favorite Christmas Tree Farm, that fresh tree smell hitting your senses, swirled with the crispness you feel on your nose, then finalized with a nostalgic bitter orange.
Hand-whipped, non-greasy and packed with skin loving ingredients!
The Rolling Bell Butters are always unrefined and organic keeping the butter in it's most natural state with all possible skin benefits intact.
Shea Butter, comes from the nuts of Shea Tree, it's nutrient dense in Vitamin A, which acts as a natural exfoliator and stimulates production of new skin cells. Vitamin E and Fatty Acids for deep, locked in moisture.
Mango Butter comes from the fruit of the Mango Tree in India. The butter as is extracted from the center of the mango fruit seed. It's nutrient dense in Vitamin A through E, Antioxidants & Essential Fatty Acids.
Coconut Oil locks in existing moisture, protects and smooths our skin.
Directions: Scoop out a small amount and rub in where desired. Best to apply right after bathing to get the full, silky smooth skin feel. A little goes a long way!
Ingredients: butyrospermum parkii (Shea Butter*), mangifera indica seed (Mango Butter*), cocos nucifera (Coconut Oil*), olea europaea fruit (Olive Oil), Cetyl Alcohol, manihot esculenta (Arrowroot Powder*), tocopherol (Vitamin E Oil); Handcrafted Christmas Blend of Essential Oils.
For external use only.
Always test a small area before applying widely.
Shelf-life: 12 months
Net Weight: 4 oz or 8 oz

This product is sensitive to temperature! In summer months, I add ice packs to my packages upon shipment in summer months, however if the heat melts this product it may appear less of a volume when you open. The effectiveness of the butter will not be affected.