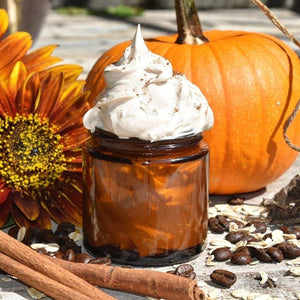 This blend takes you away to an afternoon attired in your flannel button up, boots and knitted hat with a latte warming your hands; surrounded by orange and red leaves falling at your feet.
Created to be 'naturally' indulgent without 'fragrance' oils.
The sunflower oil within this butter is slowly infused in coffee beans and brought to life with a blend of baking spice essential oils - leaving behind a non-greasy skin feel with help from a swirl of illite pumpkin clay.

Your skin will welcome the vitamins and antioxidants that leave behind a soft and healthy glow.
Silk infused + whipped to a creamy perfection every time!
A look at what's inside your jar
Silk Infusion provides a shimmering appearance on our skin. Silk is rich in water binding amino acids, known to improve moisturization, elasticity and firmness while enhancing the soft silky feel. 
One of the fine detail that sets The Rolling Bell body butters apart from others.

Cocoa Butter is extracted from cocoa beans and ooo la la does it have such a delectable scent all on it's own! Not only does it smell dreamy, it's rich in Vitamins A, E and Stearic Acid locking in existing hydration.
Shea Butter comes from the nuts of Shea Tree, it's nutrient dense in Vitamin A, which acts as a natural exfoliator and stimulates production of new skin cells. Vitamin E and Fatty Acids for deep, locked in nourishment.
Coconut Oil locks in existing moisture, protects and smooths our skin.
Directions: Scoop out a small amount and rub in where desired. Best to apply right after bathing to get the full, silky smooth skin feel. A little goes a long way!
Ingredients: butyrospermum parkii (Shea Butter*), theobroma cacao seed (Cocoa Butter*), Coffee Bean infused Sunflower Oil, Cocoyl Hydrolyzed Silk, Cetyl Alcohol, manihot esculenta (Arrowroot Powder*), tocopherol (Vitamin E Oil*), Illite Clay Pumpkin. Essential Oil blend. *organic 
Use care with getting water into the jar, water creates an environment for bacteria growth. 
For External Use Only.
Always test a small area before applying widely.
Shelf-life: 12 months
Net Weight: 4 oz

This product is sensitive to temperature! If the heat melts this product it may appear less of a volume when you open. The effectiveness of the butter will not be affected.