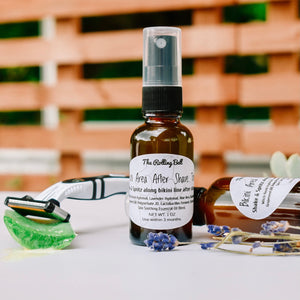 After Shave Bi-Phase Serum has been formulated to be therapeutic for our skin after shaving to aid in soothing nourishment.
Aloe Vera therapeutic for possible inflammation and knicks that may occur during shaving.
Witch Hazel Hydrosol a mild astringent, aids in keeping skin cool and calm.
Plant Oils for their rich content of vitamins and essential fatty acids to help soften our skin.

Turmeric adds it's potent antioxidant, skin brightening and purifying properties to this hydrating essence.

Lavender Hydrosol to soothe our skin and our minds.

Directions: Shake and spray onto clean hands, then distribute to skin after shaving.

Appropriate to use on the bikini line, face or any other area you have shaved.
Ingredients: Aqua, hamamelis virginiana (Witch Hazel) distillate, lavandula angustifolia (Lavender) Flower/Leaf/Stem Water, aloe barbandensis leaf (Aloe Vera Leaf),curcuma longa (Turmeric), Lactobacillus Ferment, Tocopherol, Skin Soothing Essential Oil Blend.
Shelf-life: 6 months
Net Weight: 1 oz