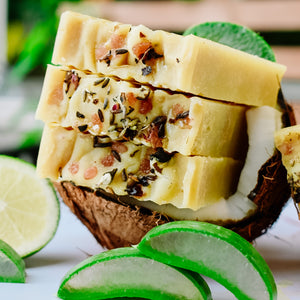 Aloe 👋 I'm Crazy for Coconuts 🥥
Hand poured and hand cut just for you!
Home-sourced Whole Leaf Aloe cut directly from my plant and placed into a blender to ensure skin nourishing benefits from the entire leaf are incorporated into my soap.
Coconut Milk is rich in Vitamins and Essential Fatty Acids providing a pampering and soothing effect for our skin.
Mango Butter rich in Antioxidants, Vitamins A and C! Mango Butter is present for it's highly moisturizing abilities and creamy lather.
Tallow highly moisturizing for our skin and helps promote a nice creamy lather.
Olive & Castor Oils are wonderful for softening our skin, replenishing our natural skin oils and holding in moisture.
Infused with Pink Himalayan Salt for skin brightening exfoliation!
Crafted with saponified Aloe straight from my own plant, Coconut Milk, Tallow, Mango Butter, Olive Oil, Castor Oil & Essential Oils.
Net Weight: 4.2 - 4.7 oz