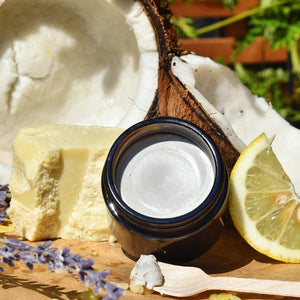 Grace Deodorant is a zero contact, scoopable natural deodorant cream that has been formulated to be creamy and nourishing, yet firm enough to be functional.
Scoopable deodorant cream allows for application 'pit stops' whenever you need that extra protection! 

Upon opening your senses are wrapped up in it's cool, refreshing essential oil blend.
Balance of natural moisture absorbers, which helps eliminate bacteria growth (bacteria loves moist environments) & Essential Oils with antimicrobial properties gives its Pure & Fresh aroma.
Coconut Oil, Shea & Cocoa Butter melted into Coconut Milk Powder for a nourishing vitamin and antioxidant rich skin loving base.
Magnesium Hydroxide is a natural, gentle moisture absorber and antimicrobial.
Directions: Scoop out with clean finger or wooden spoon provided, then apply directly onto clean and dry underarms. Rub all around until absorbed. Reapply as needed. 
Wipe underarms with clean, damp towel prior to secondary applications.
Please note this is a Deodorant*, not an Antiperspirant.
Antiperspirants prevent sweating, Deodorants assist in absorbing moisture which in turn prevents odor-forming bacteria from producing.
Ingredients: cocos nucifera (Coconut Oil*), butyrospermum parkii (Shea Butter*), theobroma cacao (Cocoa Butter*), Coconut Milk Powder*, Kaolin Clay, Magnesium Hydroxide, Vitamin E, Antimicrobial Essential Oil Mix. *organic
Shelf-life: 6-12 months pending on care taken.
Net Weight: 1 oz
Must keep in a climate controlled location, as butters and oils will melt in extreme heat.