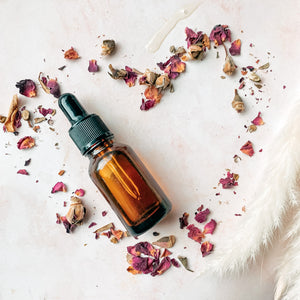 Her Ayurvedic Infused Oil is a wildcrafted oil, full of complexity.

Each herb was hand selected for it's documented medicinal benefits for our skin, then slowly infused into a blend of lightweight plant oils.

Ayurvedic (ai·ur·vay·duhk) is an ancient wisdom of healing, prevention and longevity that uses natural plant extracts for holistic practices.

Formulated to pamper our delicate skin; calming dryness that may occur with hormonal changes secondary to diagnoses such as menopause, PCOS or other endocrine imbalances.

Bearberry (uva ursa) also known as 'mountain cranberry', rich in vitamin C. The tannins within bearberry provide it's astringent and anti-inflammatory effects soothing our skin.

Western Red Cedar (thuja plicata) is known for it's antifungal, antibacterial and antioxidant purposes. Infused for it's soothing and anti-inflammatory purposes.

Mugwort (artemisia vulgaris) is known to help balance hormones; infused for it's antibacterial and soothing properties.

Wild Roses (rosa spp) infused for their rich vitamin and antioxidant properties to sooth and detoxify our skin.
Directions: Apply a few drops to clean fingertips and gently distribute onto vaginal area.

Ingredients: Bearberry (uva ursa), Western Red Cedar (thuja plicata), Mugwort (artemisia vulagris), Wild Roses (rosa spp) infused prunus armeniaca (Apricot Kernel), simmondsia chinensis (Jojoba), Vitamin E, Essential Oil Blend.
Plant-based | Cruelty-free | Eco-friendly

Always test a small area before applying widely.
Shelf-life: 12 months
Net Weight: 15 ml

These statements have not been evaluated by the Food and Drug Administration. This product is not intended to diagnose, treat, cure, or prevent any disease.

All information shared and applied to this product are formed by reading and learning from reputable resources regarding herbalism.