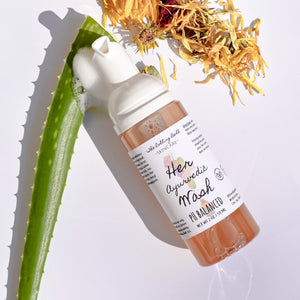 Her Ayurvedic Wash is infused with Mother Earth herself with the herbal and botanical blend of ingredients - formulated to keep this delicate space pH balanced, aid in calming and retaining hydration.

Ayurvedic (ai·ur·vay·duhk) is an ancient wisdom of healing, prevention and longevity that uses natural plant extracts for holistic practices.

Pairs well with Her Ayurvedic Oil; an intimate oil, full of complexity.
Apple Amino Acids creates lather, gently cleanses the skin; respectful of our skin barrier.
Aloe soothing, hydrating and calming for our skin.
Calendula | Chamomile standout herbs for skincare, known best for their anti-inflammatory and soothing properties.

Apple Cider Vinegar helps support our natural flora pH while calming and soothing.
Directions: Shake, pump twice onto clean hands and wash. Rinse away the suds. 
Friendly reminder: no cleanser should be used inside the vaginal area. She is self-cleaning and does not need any help!
Ingredients: Aqua, melaleuca alternifolia (Tea Tree Hydrosol), Calendula Officinalis Extract, Apple Cider Vinegar, Yogurt Extract, Sodium Cocoyl Apple Amino Acids, Coco Glucoside, Glycerin, Aloe Barbadensis Leaf Juice, Benzyl Alcohol, Ethylhexylglycerin.
Plant-based | Cruelty-free | Eco-friendly
For External Use Only.
Shelf-life: 6 months
Net Weight: 2 oz